The final phase of ManoByte's HubSpot implementation process includes testing, training, and rollout of your new system, known as Roll-out.
During Roll-out, ManoByte's team takes the time to comb through every aspect of your project to ensure all systems, integrations, automations, and system architecture are working in alignment with the previously established strategy, roadmap, and build-out.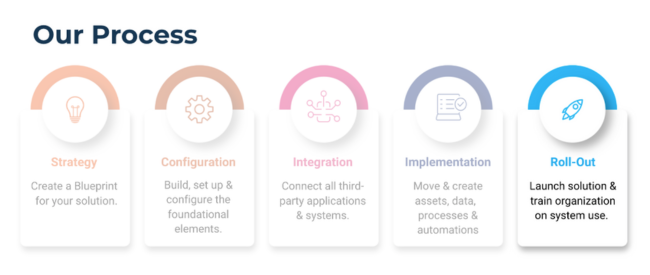 Functional testing during this phase includes (but is not limited to):
Integrations testing to ensure integration is doing what was expected and intended to do, that properties are mapped correctly, records matchup between systems, and workflows are functioning as they should be
Internal HubSpot portal testing to verify all tools and properties are set up in alignment with project strategy and objectives
Data quality checking to ensure your system is providing you with accurate information and insight to enable your team to do its best work. We'll help to identify any duplicates or overlaps in information, review any mandatory fields, null or missing values, and ensure formatting is consistent across all data points so you can hit the ground running
Process testing - our team will take your processes for a test drive to ensure all tools, pipelines, automations and workflows are working properly
Depending on the complexity and size of the project, ManoByte will also back any pilot testing efforts you see fit, including:
Pilot user training
Pilot user (or acceptance) testing
Pilot user feedback and review
Pilot user feedback changes for optimal user experience
The implementation of any new business process or system requires thorough user understanding leading to heightened levels of user buy-in, adoption, and ultimately your ROI into the platform and implementation. This is why we insist on making sure your team is trained upon the completion of each system build.
ManoByte's team will work closely with you to ensure training must-haves are identified and HubSpot training is specific to your unique and custom-built processes. The type and number of training sessions vary depending on items included in each implementation package, and can also differ based on training add-ons purchased, but range from admin-level training sessions, to sales and marketing team training(s).
Once all members of your team have been trained and are ready to do their best work yet (with a little help from your new systems and armed with their newly acquired skills from training), ManoByte's team will remain on stand-by for the next 30 days post-launch for quality assurance; making any adjustments or potential fixes to your system as-needed.
We understand that building out new processes and launching a new system is a delicate, unique, and complex undertaking for any business. That's why each implementation package also includes a 30-day support "safety net" for our implementation clients. In the event that you need additional support calls, run into bugs, find that you need system tweaks post-launch, or are struggling with user adoption, ManoByte will stand by during our 30-day project support period to ensure the best possible roll-out.