Understanding the Configuration Phase of ManoByte's HubSpot Implementation process.
After completing the Strategy Requirements and System Design phases of the implementation, the project will move into Configuration. First and foremost, ManoByte's Client Success Manager will ensure that the approach, strategy, and project requirements defined in the previous phases are correct and ready for implementation. Upon final approval, it's time to start the build-out!
Configuration involves setting up and configuring various aspects of the HubSpot platform to meet your specific needs. This phase can vary quite a bit depending on the type of Hub the client has purchased and established implementation needs.

In essence, Configuration both lays the foundation for, and includes the actual setup of standard HubSpot settings, properties, forms, pipelines, automations, templates, sequences, future integrations and data mapping, and more.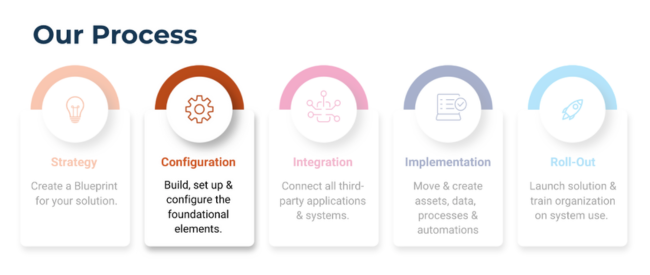 Standard Portal Settings
No matter which Hub you are implementing, HubSpot includes some basic portal settings that set the foundation for other, more specific, elements to be built upon. These basic settings include account default setup (think time zone, fiscal year, and date/time format settings), branding elements (like inputting logos, fonts, and colors), building custom objects as-needed (beyond HubSpot's deal, contact, company, and ticket standard objects), setting up or updating association labels, connecting and configuring settings for shared/team inbox, and ensuring privacy and data protection measures are in place.
Configuration by Hub Type
Configuration also encompasses specific settings and customization based on the type of Hub you purchased.
Depending on your Hub type, your Configuration tasks will likely look something like this:
Marketing Hub Configuration:
If you've purchased and are implementing Marketing Hub, ManoByte will build out marketing email templates, connect and set up social media platforms and settings, and build out landing page templates and CTA's (calls-to-action).
Sales Hub Configuration:
For those with Sales Hub, Configuration involves creating deal pipelines and workflow automations. ManoByte's team will also customize record views for deals, contacts, and companies, set up forecasting functionality, and configure quote approval settings.
Service Hub Configuration:
In a Service Hub implementation, Configuration includes setting up custom properties for tickets, building out ticket pipeline stages and automations, and customizing ticket record views. If you plan to optimize an existing- or build out a new Knowledge Base, this is when ManoByte's team will customize its appearance and ensure subdomain connection.
When it comes down to it, each of the elements in Configuration are essential to ensuring all of your HubSpot portals are tailored to your specific wants, needs, and goals.
Once each of the identified settings have been configured in alignment with the project roadmap and strategy, it's time to start connecting and building out any outside functionality, otherwise known as
Integrations
.