Understanding the Integrations Phase of ManoByte's HubSpot Implementation process.
Depending on the complexity of your project, ManoByte may initiate a Tech Stack Audit during the initial Strategy & Requirements phase to determine needed Integrations.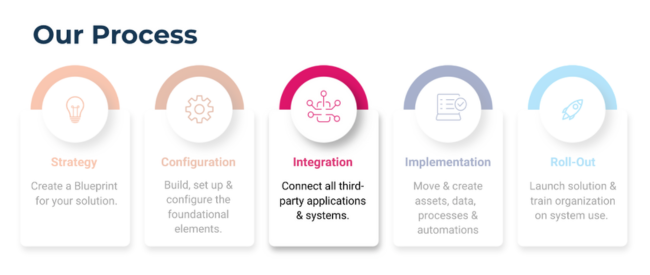 This tech audit process can be incredibly eye-opening for clients and is a crucial building block that ensures ManoByte understands which platforms are currently in use, what those platforms are used for, and if an integration or additional functionality outside of HubSpot is actually needed.
In many cases, ManoByte may find that you can rid of additional, or other costly platforms that can needlessly bloat your tech stack (and your budget).
Common Situation
Let's say the client is implementing Marketing Hub Enterprise and is currently using Constant Contact for marketing emails, HootSuite for social media scheduling, and another siloed platform for analytics. While this may seem like a normal setup to some, ManoByte's team knows that these elements can be easily condensed and brought together into one, centralized place given Marketing Hub Enterprise's robust marketing tools and capabilities.

But potential cost saving and a less clunky tech stack isn't the only benefit here. As part of implementation, ManoByte will also provide education on HubSpot elements and tools that bring these elements together seamlessly. With HubSpot's campaigns tools, for example, clients can build robust campaigns and associate marketing emails, social media, digital advertising, etc. to a specific campaign, providing detailed insight and analytics all within a single, interconnected, and easy-to-use platform.
Once ManoByte has guided you through which integrations are (or aren't) needed and the new tech stack has been finalized and approved, it's time to either connect pre-built integrations from HubSpot's app marketplace, or start the development of custom-built integrations.
For CRM data migrations, ManoByte's implementation specialists will work with you on a data cleanse to ensure only the most up-to-date and useful contact information goes into the new system.
* If you purchased an Enterprise-level subscription, the data will first be mapped into a sandbox - or test portal - to ensure all defined data, objects and properties are mapped properly. Sandboxes are a wonderful tool for detailed and complex internal processes and integrations and provide a worry-free testing environment to see what works best, and identify potential changes or optimizations.

ManoByte's developers and implementation specialists will work in tandem to ensure the right data is mapped and proper brand tags are set up. They'll also run various tests based on your use cases to make sure future state desired functionality is functioning as it should.
In the event that HubSpot's app marketplace doesn't provide an out-of-the-box integration solution, fear not! ManoByte's in-house development team will work closely with you to understand the needed functionality, ensure all historical data, activities, and attachments are mapped correctly, and that CRM cards are customized to client specifications.
* Prices for custom integrations will vary depending on complexity, and are typically defined in the pre-implementation sales process.
With basic settings configured in alignment with approved project requirements, and the determined needed integrations in the works, it's time to move to the final phase before system rollout: Implementation.