Understanding the Implementation phase of ManoByte's HubSpot Implementation process.
In our previous phases, we've seen a successful strategy built in alignment with your project requirements (Strategy Requirements). From there, the system design and technical architecture of the project was determined and approved (System Design), which provided a roadmap for the needed setup and configuration of standard HubSpot settings, properties, and automations within each specific Hub purchased (Configuration). From there, ManoByte will connect, map and/or build out any custom integrations for optimal platform functionality (Integrations).
The completion of each prior crucial setup phase lays the foundation for the actual build and configuration of all major assets within your unique portal, which brings us to our final phase before system roll-out: Implementation.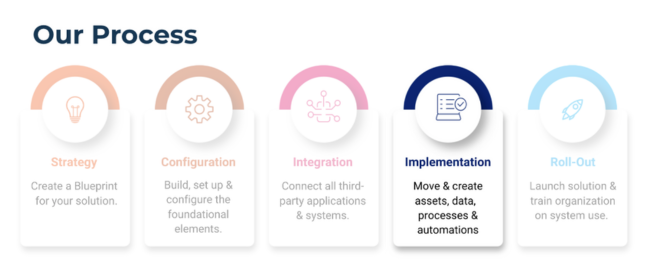 Built on a solid, shared foundation
A powerful, primary characteristic of HubSpot is that all Hubs (Sales, Marketing, Service, CMS, and Operations Hub) are built upon HubSpot's CRM (customer relationship management) software.
So what is the advantage of systems and processes built upon one CRM? Immediate interconnectivity of a businesses' internal processes.
First and foremost, using the HubSpot CRM as the foundation of your operations you immediately provide greater visibility, accessibility, and accountability across teams, data, and customer interactions. This creates a direct line of sight into your unique customer journey, and how each business unit impacts the customer lifecycle at a granular level from a single, easy-to-use platform.
Although there's always some variance depending on each project's unique requirements, CRM setup often includes:
Form creation and lead capture setup
Lead scoring build
List segmentation
Setup of any lead nurturing campaigns
Setup of chat bots & chat flow
Files and folders uploaded & organized
Implementation by Hub Type
Similar to Configuration, the Implementation phase also includes other setup items specific to the type of Hub(s) you purchased.

Below includes a summary of additional implementation items taking place during this phase, based on specific Hub type:
Sales Hub
Sales pipeline and workflow automations
Including the setup of automated hand-offs from marketing to sales, lead assignment workflows, and automations that enable your sales teams to do less administrative work, and more time selling
Import of products and line items
This also includes the creation of any outstanding custom properties in setup, the customization of line item column, products upload, and the creation of discount codes, if applicable
Setup and build of sales enablement tools including

Build-out of sales email templates based upon commonly used emails sent by sales reps (your submitted copy is built out in HubSpot by ManoByte implementation specialists, complete with any personalization tokens, attachments, etc.)
Automated email sequences built out for worry-free and timely sales nurturing
Creation and configuration of sales playbooks, providing a user-friendly and standardized roadmap of your unique sales process(es) for your reps to follow, easily document, and reference
Build-out of sales reports and dashboards
Which can range from HubSpot's robust library of reports, as well as custom report builds, or dashboard setup (if included in your implementation package).

Some common sales reports often include: sales rep activity reports, lead generation reports, and revenue reports
Providing sales leaders with valuable insight, tracking, and estimates into team activity and/or sales goal progress and performance
If your sales team works with contracts that need to be sent for physical- or e-signature, or, if the team has products and line items that need to be added to an invoice for billing and contract purposes, this is where HubSpot's quotes tool comes into play. Depending on the level of complexity, ManoByte's graphic design team, or development team will build out any needed quote templates within your portal
Marketing Hub
Create and publish landing pages
A lead-capture tool with the primary function of attracting visitors to your website and converting them into leads, ManoByte will design, build, and publish landing pages in alignment with strategy best practices
Technical build-out of marketing workflow automations
From chat bot flows and lead scoring, to email follow-ups and drip campaigns - it can all be automated by ManoByte implementation specialists with HubSpot's sophisticated workflows tool
Build-out of marketing campaigns
With the help of HubSpot's all-inclusive campaigns tool, you can easily group select marketing assets and tie them back to a specific campaign. Following the receipt of all of your campaigns assets, ManoByte's team will ensure client marketing campaigns are optimized for ease of use and peak performance to help your marketing team hit targets, analyze results, and determine opportunities to make your campaigns lead-converting machines
Marketing reports and dashboards

Easily track the most complex of marketing campaigns and initiatives. ManoByte's implementation specialists will create detailed reports and dashboards to help you track everything from website analytics and A/B testing, to social media engagement and digital advertising. Used provide valuable insights into what's working and where you're seeing your greatest ROI
Service Hub
From setting up your SLA's (service level agreements) to ensure customer service reps are responding to and closing tickets in a timely fashion, to ticket creation automation like building workflows that automatically crate and assign tickets when a visitor submits a support request form - ManoByte will build a service pipeline (complete with reporting functionality) that enables your team to provide the most prompt and helpful service strategy that will turn even your most disgruntled customers into raving fans
Create and automate customer feedback surveys

We'll help you take the guesswork out of what your customers are thinking about your service process by implementing customer feedback surveys complete with automation. ManoByte's implementation experts will help you nurture customers using automated email sequences based on the noted level satisfaction collected in feedback surveys
Knowledge base creation and build
Help your customers help themselves and free up the valuable time of your customer service agents. Let us take the sweat out of creating a user-friendly knowledge base so your customers can easily find the answers to common questions or how-tos
Service reports and dashboards built
We'll help you take the guesswork out of your customer service metrics by helping you attain actionable and accessible insights through HubSpot's robust service reporting tools. ManoByte will help you create reports and dashboards to present you with the most valuable customer service data including customer satisfaction scores, SLA metrics, ticket volume, and average ticket response times
ManoByte's HubSpot implementation clients truly start to see their new system come to life in the implementation phase.
If you have purchased HubSpot and are unsure of where to begin with such a powerful tool, let ManoByte take the sweat out of your new system's launch and ensure you get it right the first time.
Using a rock-solid strategy and proven approach, we'll make sure your system is not just built to meet, but exceed your expectations to make sure you're getting the most out of your investment.
There's still one more piece to a successful project though. Learn about our process during the Rollout phase.