Understanding Strategy Requirements and System Design.
When you've partnered with ManoByte to help you successfully implement and leverage the HubSpot platform for your business, you'll be guided through multiple phases of implementation. The first of these phases (post-initial onboarding) includes Strategy Requirements and System Design.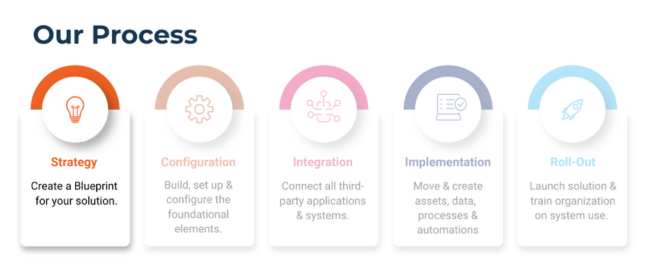 Strategy Requirements
A strong, carefully considered strategy backs any successful project. The Strategy Requirements stage is built into every project to ensure clear, mutual expectations are set and understood on both our sides.
To ensure that the HubSpot platform is tailored to meet your specific needs and expectations, ManoByte takes inventory of technical assets, integrations, and other project components alongside your project goals.
In our initial strategy meetings that run concurrently with data collection (yes, there will be some homework for you to complete in the first couple of weeks), we'll ask questions and gather needed information to wholly understand your business' current systems and processes, and get to the bottom of what you envision your future - or better yet - your ideal state looks like.

Below are some examples of things you might be asked in the Strategy Requirements stage of HubSpot implementation:
What does a successful HubSpot implementation look like to you?
What are the non-negotiables?
What are your current sales, marketing, or service processes?
What types of reports or KPIs are needed for robust, well-informed reporting?
What integrations are needed, and where is your data currently stored?
Can you provide any examples of current workflows, automations, or processes in use by your team?

What do you like about them? Dislike?
Are there any places that you can identify in your sales, service, or other processes where automation could be optimized?
By asking the right questions and documenting them up front, ManoByte gains a clear picture of not only how to optimize your existing (or wholly new) business processes, but also ensures that we're seeing eye-to-eye on what needs to be done to ensure a successful project.
We'll also collect information to understand your current data model (like necessary properties), and other critical building blocks to be mapped into your new CRM (like custom objects or standard objects including contacts, companies, deals, and tickets). We'll work with your IT team to set up your email-sending domain, install tracking codes on your website to better understand your customer lifecycle, and identify key stakeholders.
From these essential building blocks - understanding your systems, processes, goals, and use cases - we build our strategy and act as a technical setup and implementation partner and as a consultant with your company's best interest in mind.
System Design
Once we have established a well-rounded and agreed-upon understanding of what a successful project looks like, it's time to start building your new system and bringing it to life. This marks the beginning of the System Design phase.
Depending on the complexity of your project, you may have a Solutions Architect, Senior Implementation Strategist, or Client Success Manager map out and propose your new system build in the style of a flowchart. Each flowchart outlines all of your future system's objects, integrations, and optimized data flows, providing a roadmap of what ManoByte's implementation team will build. Once the new process flow has been presented, you'll have the opportunity to ask questions and express any potential concerns. Our role is to come alongside you on this journey to uncover the best path forward. Upon final approval, ManoByte's team will begin its technical architecture and engineering of your new setup.
Other pieces of System Design include connecting with your IT department to ensure proper setup and optimal data flow between systems and connecting your email-sending domain, primary-, and/or sub-domains to HubSpot.
ManoByte will also provide resources on excluding certain (typically internal client user) IP addresses from website tracking and analytics to ensure the most accurate representation of user activity on your website. This small but effective step will ultimately ensure that you achieve the most accurate, well-rounded understanding of how your customers interact with your website and a comprehensive view of your customer's lifecycle and journey.
Based on client user information collected in our previous Strategy Requirements phase, ManoByte will also create users, teams, and hierarchical teams for those users if desired, assign permissions to individual users or whole teams, and set up presets for users, like email signatures.
If your project includes certain levels of Sales or Service Hub, ManoByte will also come alongside your teams to help them set up HubSpot's calendar functionality (think Calendly, but better) and connect their Gmail or Outlook email accounts to ensure effective, consistent communication and activity tracking.
Following mapping the new system's integrations and data flows, establishing users, teams, and permissions, and ensuring proper analytics and communication tracking, your assigned Client Success Manager will create a training schedule based on the agreed-upon timeline and project specifications.
Once each step has been completed, the Client Success Manager will close out the System Design phase by building a training dashboard with project-specific resources directly into your HubSpot portal. This will provide each new user a centralized, easy-to-find knowledge center that will also encourage user adoption of the new system.
Following the completion of the above System Design steps, the project is ready to move into its next chapter: Configuration.